Summer Power Outage in Logan County
6/16/2022 (Permalink)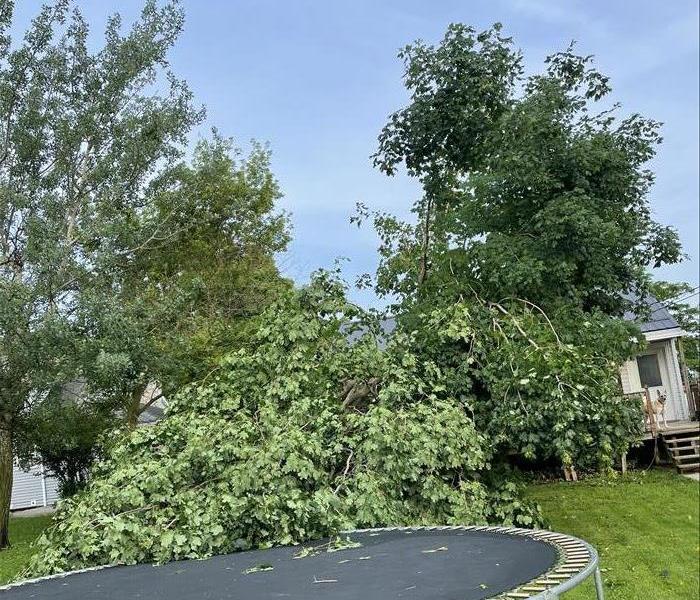 Strong thunderstorms with damaging winds ripped through Logan County earlier this week taking with it trees and power lines leaving thousands of residents without power, some for days now. This week has also brought with it a heatwave making a bad situation worse. While power companies are working around the clock to restore power to all customers it's always good to be prepared when something like this happens. Here are a few tips to help you deal with prolonged summer power outages.
Keep Emergency Supplies on Hand
Having an emergency supply kit on hand is the first step in being prepared for a power outage. Kits should include water and non-perishable food, enough for 3 days for every person living in the home, cell phone or land line, emergency contact list, flashlight, and battery-operated radio.
Keep Refrigerator and Freezer Doors Closed
Keeping the doors closed will greatly aid the unit in holding its temperature. The CDC states that food will hold in a refrigerator for 4 hours, while a full freezer can hold food for 48 hours, and a half full freezer will hold for 24 hours.
Keep Outside Doors and Windows Closed
Shading the house with curtains and blinds and keeping doors and windows closed will keep as much of the cool air from going out and the warm air from coming in as possible.
Check for Cooling Stations in your Community
When residents are without power for prolonged periods most communities will have cooling stations set up around the city providing them somewhere to go to cool off when temperatures are dangerously high.
Check on Friends and Neighbors
Infants and children up to the age of four, people over 65, people who are overweight, and people who are ill or take certain medications are at a higher risk for heat related illnesses, check on neighbors and friends to make sure they are staying safe.
Keep Pets Hydrated
Heat affects our pets the same way it affects us. Always make sure they have access to clean, cool water.
DIY a Battery Powered A/C Unit
There are lots of tutorials available online for homemade A/C units, most use a sealed container, a pipe, fan, and ice to provide cooling relief. Make sure your fan is battery operated so it can be used during a power outage.
Keep Activities for Kids on Hand
Kids can get impatient during a power outage, and when power is limited screen time may not be an option so keeping things like coloring books, crayons, boardgames, and other activities on hand is always a good idea.
Even with the best preparations disaster can still strike. If you experience a storm loss in your home or business call the restoration professions, SERVPRO of Central Auglaize/Hardin/Logan Counties at 937-354-3540.